Parker Graye is celebrating the release of her latest single "Good At Gettin' Gone" with the cover slot on Amazon Music's Breakthrough Country playlist.
"Good At Gettin' Gone" was also added to Amazon Music's Fresh Country, along with Apple Music's New In Country and Canada's Country.
If you're in the midst of a breakup, reliving a past relationship, or even in a good place in the ol' love life and are a sucker for a sad song, "Good At Gettin' Gone" is for you.
"Good At Gettin' Gone" Came From An Unclear Breakup
Where do all great sad country songs tend to come from – well yes, the heart. But a good ol' breakup. That's exactly what Parker was going through that catalyzed the new heartbreaker track.
"Good At Gettin' Gone" transpired out of a breakup that she didn't actually know was the end at first.
"In previous relationships I've had 'the talk' or try to find a time to exchange things. When it came to this relationship, we had a talk but things were left quite up in the air, no real "goodbye" and certainly no clear ending (he'd tell you otherwise)."
Listen Yo Our Chat With Parker Graye On The Porch
Leveraging her broken heart as many good songwriters do, Parker brought her story to co-writers, Tori Tuller and Kate Malone (who also produced the track), and together, they packaged it into a beautiful heartbreaker track.
RELATED: We had Parker Graye "On The Porch" in season one of our podcast, and it was the best time …
Evolving Her Sound With "Good At Gettin' Gone"
"Good At Gettin' Gone" immediately pulls at the heartstrings with a captivating snare and opening lyrics "I wanna hate you, I wanna blame you, for the fact that I still can't erase you. I wanna change you, but I know that I won't."
While the song remains true to Parker Graye, the listening experience has deepened instrumentally, while still holding her sweet emotional vocal at the forefront.
"Good At Gettin' Gone" follows the 2022 releases of "Last Rodeo" and Graye's sad girl cover of Avril Lavigne's "Complicated".
With an EP on the 2023 horizon, "Good At Gettin' Gone" solidifies Parker Graye's ability to pen thoughtful lyrics, and illustrate intense heartbreak in poetic, dreamy country songs.
Follow Parker Graye On Social Media
Instagram – @parkergraye
Twitter – @parkergraye
TikTok – @parkergraye
Stream "Good At Gettin' Gone" By Parker Graye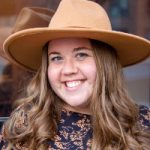 Country music lover with an unhealthy collection of concert t-shirts. Always looking for up and coming artists. Believer in music's ability to soothe the soul. Connect with me on Instagram and Twitter.