"It's been a long time coming," says Stacey Zegers, one-third of the country music trio, Runaway Angel.
This sentiment encapsulates the incredible journey they have embarked upon, overcoming personal challenges and embracing new beginnings. From career changes, to motherhood, health scares, and moves to different cities, their lives have changed a lot since the trio went on hiatus in 2019.
Fueled by passion and determination, Runaway Angel has reunited, bringing their affinity for songwriting and performance right back with them.
Catching Up With Runaway Angel
I asked each of the Angels what they've been up to during their hiatus from making music.
Stacey Zegers spent the last few years navigating some career changes, moving to a new place and starting a family.
Ann Chaplin laughs as she says, "I had no idea what to do with myself, so I went back to school." She's moved a few times over the last five years and has been working music back into her life. She remarks, "You look back over the years and think how did all of this happen!"
Cadence Grace has been easing her way back into her passion, which has included songwriting, buying a place in Nashville with her husband, and really leveraging the time she's had to spend with her family.
RELATED: Learn more about Cadence's battle with cancer in our Women in Canadian Country Spotlight …
One thing that the trio has been consistent about through all of their life progressions is sticking together and getting back together to write.
A Decade Of Runaway Angel
"We're going to give it two years and then we're giving up," Cadence reminisces with a touch of humor.
Little did they know that a decade later, they would still be together, making music. Life changes, hopes, and prayers to create music again—each member navigated these complexities individually.
While taking time away from the music industry, the group did still write songs for film and television, something they've been doing for years as well.
Cadence, Ann, and Stacey have had their collective music featured on CMT, Disney, NBC, MTV, Nickelodeon and Lifetime in shows like "Degrassi", "Dawson's Creek", and "The Hills." Most recently, Runaway Angel's "Around the Bend" was placed in the 2022 movie, "Country Roads Christmas", while another track, "If You Only Knew", was included in an episode of Hallmark's "Ride" in 2023.
Returning to Their Roots: Songwriting In Nashville
Taking their first trip back to Nashville together, Runaway Angel dove back into songwriting. The result? Music that makes people feel good—a perfect fit for their energetic live performances.
While the trio has been through so much in the last number of years, they're leaning into the positives.
"We'd rather come back with something fun and anthemic," states Stacey. "Beach Please", their latest single, hits the nail on the head.
RELATED: Learn more about their latest single "Beach Please", the first single since their hiatus …
Keep Up With Runaway Angel
Runaway Angel is focused on writing more tunes, honing their live performances, and gaining confidence for the upcoming performance season.
Runaway Angel also teased a potential EP release which they're hoping to drop this fall.
Instagram – @RunawayAngelMusic
Facebook – @RunawayAngelMusic
TikTok – @runawayangelmusic
Twitter – @Runaway_Angel
Listen To Runaway Angel's Top Music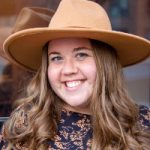 Country music lover with an unhealthy collection of concert t-shirts. Always looking for up and coming artists. Believer in music's ability to soothe the soul. Connect with me on Instagram and Twitter.