Canadian Country Music Week has come to a close and last night all eyes were on the CCMA Award Show. Let me just start by saying … they did not disappoint.
The downtown core of London Ontario transformed into Canada's country music hub for Country Music Week with writer's rounds, networking events, and nightly shows. The party inside London Music Hall could be heard from the streets.
RELATED: See the full list of nominees for the 2021 CCMA Awards in London …
After two years, Canadian country musicians, industry professionals, and fans reunited to celebrate.
Recapping Country Music Week In London
Here's what happened over the course of the weekend.
The Blue Jay Sessions rolled into Union Ten Distillery on Friday with sessions every day throughout the weekend. String lights, a decorated old pickup truck, and a festive holiday cocktail menu set the perfect mood for these intimate writer's rounds. We were able to catch some great music from Hailey Benedict, The Prairie States, Nice Horse, Raquel Cole, Nicole Rayy, Doc Walker, and more! To cap off The Blue Jay Sessions Sunday evening, Shantaia hosted and joined in on an open-mic night.
The core of the CCMA celebrations was at London Music Hall – or "CCMA House" for the weekend. Friday night saw SiriusXM's Top of the Country Finale, featuring Raquel Cole, Tyler Joe Miller, and Kelly Prescott. Tyler Joe Miller took home SiriusXM's "Top of the Country" and a $25,000 prize.
Saturday, Front Porch Music made our way to RBC Place to catch up with some of Canada's top and emerging artists on Media Row. Our blue rocking chair also made its official debut.
Sakamoto Talent Agency hosted artists and industry professionals for an afternoon mixer at Palasad Social, where we were treated to performances from The Washboard Union, Aaron Goodvin, Nice Horse, Bobby Wills, River Town Saints, and more.
CCMA House was lively all day Saturday as well with CCMA FanFest presented by Pure Country, along with The CCMA HOUSE Party where Shawn Austin, JoJo Mason, Steven Lee Olsen, Tim Hicks, MacKenzie Porter, High Valley and more took the stage.
Sunday, CCMA House unplugged for two sessions of special acoustic performances from James Barker, Jade Eagleson, Griffen Palmer, High Valley, Tenille Townes, Aaron Goodvin, Tenille Arts, and Robyn Ottolini.
After taking the MDM Unplugged tour across Canada, MDM Recordings hosted their CCMA Party with music from Jess Moskaluke, Don Amero, David James, Tyler Joe Miller, and Five Roses.
Recapping the 2021 CCMA Award Show
Of course, the Canadian Country Music Association Awards were the grand finale of Country Music week.
Hosted by the show stopping duo of Lindsay Ell and Priyanka, the award show was nothing short of exceptional. Both artists also took to the stage with incredible performances.
Dallas Smith debuted his new single "Hide From A Broken Heart," which dropped at 8:00pm on November 29th.
Mackenzie Porter and Dustin Lynch then took to the stage for their duet, "Thinkin' Bout You."
JoJo Mason energized the crowd with infectious charisma for "Broken Umbrella."
Tim Hicks blew the roof off of the Budweiser Gardens with single of the year and CCMA nominated banger, "No Truck Song."
Ironically, Hicks then introduced Robyn Ottolini … and her truck song!
Robyn Ottolini set fire to the stage with her smash hit "F-150." Singing the track that went absolutely viral and can be heard on nearly every radio station across the country, she managed to bring a new level of energy to "F-150."
Tenille Townes graced the CCMA Award stage with her most recent single, "Girl Who Didn't Care."
Priyanka absolutely lit up the room and put on an electric performance of "Country Queen."
High Valley got the crowd tapping their toes with "Grew Up on That."
Tenille Arts took to the stage with her sister Brooklyn for "Back Then, Right Now." Choreographing and joining her big sis on stage, Brooklyn joined Tenille for her performance and the Arts sisters stole the show.
Don Amero performed "You Can't Always Be 21" which also featured SiriusXM Top of the Country finalist Raquel Cole on backup vocals and guitar.
Tyler Joe Miller dropped the disco ball (literally, it came down from the ceiling and illuminated the crowd) with a performance of his record-breaking debut single, "Pillow Talkin'."
The incredibly talented Lindsay Ell sang "Good On You" and showed off her wicked guitar skills.
Jess Moskaluke dazzled the room with her knee-high sequin red boots, and of course her incredible pipes for "Map Dot."
Chris Stapleton, Thomas Rhett, and Walker Hayes also performed live from Nashville.
The Reklaws and Sacha closed the award show with their record-breaking chart-topper, "What the Truck."
And The 2021 CCMA Award Winners Are …
And the 2021 CCMA Award goes to …
Entertainer of the Year – Dallas Smith
Album of the Year – Lemonade Stand, Tenille Townes
Amazon Alexa's Fan Choice – Brett Kissel
Female Artist of the Year – Tenille Townes
Male Artist of the Year – Dallas Smith
Group or Duo of the Year – The Reklaws
Interactive Artist or Group of the Year – Lindsay Ell
Rising Star Award – Robyn Ottolini
Alternative Country Album of the Year – Agricultural Tragic, Corb Lund
Single of the Year – Like A Man, Dallas Smith
The full list of nominees and winners can be viewed here.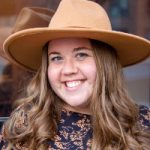 Country music lover with an unhealthy collection of concert t-shirts. Always looking for up and coming artists. Believer in music's ability to soothe the soul. Connect with me on Instagram and Twitter.