Madeline Merlo is taking the stage at Cavendish Beach Music Festival this year. With the release of her latest single "Same Car" collecting millions of streams and her most recent radio single "Slide" being her highest charting single to date, it's safe to say fans are excited about Madeline's new music.
Madeline signed her first record deal when she was just eighteen years old. Songs like "War Paint", "Motel Flamingo" and "It Didn't" are just a few favourites from Canadian country listeners. With many CCMA nominations under her belt, her first American #1 as a songwriter with Lady A's "Champagne Night", a brand new record deal, and new music, Madeline has learned a lot in her decade in the music industry.
Check out five questions with Madeline Merlo.
5 Questions With Madeline Merlo
1. We often focus on lessons learned looking back on experiences. Instead, looking back on how young you were when you signed your first record deal and kicked off your career, what are you most proud of?
"I love her so much, she's so strong and she was going through so much personally, while pursuing this. She was able to focus and not let her work fail while having all these distractions."
Reflecting on some of the opportunities she was presented with and didn't shy away from, Madeline recalls some pretty big life changes. She embraced everything that was thrown at her.
Madeline Talked To Us About Her Early Career. Have A Listen
"I went to Kuwait with the military. There was no fear, there was no doubt. She was ready to go," says Madeline on this young version of herself.
"Moving to Nashville. It changed everything. I thought I was writing good songs, turns out I wasn't. It felt like Nashville University. I learned so much as a songwriter, an artist, and a person. This town has broken me and built me back up in every single way. I wish I had moved here sooner. I have no regrets but this was life-changing."
2. You say you've always had "that spirit of something to prove even when things are going great". How have you maintained a drive and work ethic even when things weren't going as you wanted?
"I have always been incredibly certain that I was supposed to make music and be in music. I remember graduating high school and hearing "this person is going to UBC" and mine was Madeline is going to move to Nashville and be a country music singer. I remember people were like 'okay'. When you choose this as your career you're met with that a lot. I've always wanted to prove to those people."
"It's such an incredible feeling to work so hard and dedicate so much of your life to something and watch it start to twinkle and burn a little bit. When it's not, it's really hard. I've done a lot of work on myself to separate myself as Madeline Merlo the artist and Madeline Merlo the person."
RELATED: Get to know "Madeline the person" a little more in our episode of On The Porch with Front Porch Music …
She thinks about emerging artists, young people looking to follow their dreams. Reminding these young minds that they are more than the artist, the aspiring, writer, whatever it may be. It's critical to have an identity outside of their career.
"What are other things about me? What other things give me value. I've had to take a long look, and it's a process. When music's going good, Madeline's going good, when music's not, you know Madeline isn't. I signed a record deal right out of high school. I have put all of the eggs in one basket. That's what they say, it has to be like that. I'm very grateful for this strong purpose and direction. I'm still working on these things."
3. Your songs are built around strong female characters and that's something important to you. Who are those strong female characters in your life that inspire you? Why is it so important for you to illustrate this in your lyrics?
"It's really important to me. Even when I'm in the writing room and we're writing a song about someone who's been cheated on and they keep going back, that character isn't inspiring to me. I want her to say no, I want her to say she's leaving. Even when I've been weak, I want these characters to be strong. Growing up listening to strong female characters is so important."
Thinking back to the powerful women that inspired her in her journey, Madeline includes her mom, her sister, Shania Twain, and the Spice Girls.
"I was listening to Victoria Beckham on a podcast talking about the Spice Girls and girl power. I was so inspired by the Spice Girls. They were all very unique. There was no narrative about guys, it was all about them."
Madeline knows how powerful these images of strong women have been for her and the importance of little girls having these role models. She wants people to listen to music with strong characters and watch movies with strong characters.
"That's always my true north when I'm writing – just like 'I thought it would kill me but it didn't', and having those hooks that drive these bigger messages."
4. When you look at the landscape of country music and making more space for women, what makes you feel optimistic?
"I'm feeling really optimistic these days. I think it's swinging the other day and people are wanting to hear that voice. It's happening without a doubt. It's not even, and it is what it is, but it's cool to see more females get that spotlight. To see it being shown and celebrated, and uplifted, it's really great."
Acknowledging there's still a lot of work to be done, she's optimistic.
"We're looking at Lainey Wilson who's exploding. Everyone is wrapping their arms around it and celebrating it. There are cracks, but it feels like we're moving in the right direction."
5. What would you say to those school-age girls with big dreams? How do they not let fear and other people's opinions, what they think they should do, get in their way?
"There are a lot of different voices, including the internal voices. Start by being nice to yourself. Anything is possible, we have one life and you've got to at least try. Go for it and you never know what could happen."
Madeline looks back on years of working hard and one of those "wow, how did I get here moments".
RELATED: Learn more about the other female country artists we've put the spotlight on …
"I got to sing with Shania Twain at the CCMAs one year and I was like how the heck did this happen, what an insane thing. She was my first concert – so full circle. So many things like that have happened. It's about showing up every day."
The industry can be difficult to navigate at times and she thinks looking at who's been around for a long time, who's worked hard and who's making it, they share valuable characteristics.
"When you look around and you see people start to work and start to blow up, it's not always the most talented. It's the people who didn't give up and who are still here."
Bonus: What to look at signing a record deal at a young age.
Get a good lawyer – when you're that young, you're so excited and listening to everyone else's opinions. It's hard to find self and true artistry that young. The minute you start thinking for yourself, you know your fans best, that's when it starts to work out for you.
Make sure you know what's going on with the business side. When you're that young you're just playing shows and it's something you don't think to pay attention to. You're a small business owner, you need to know what's going on with your business.
Top 3 Female Artists Madeline Is Loving Right Now
"Robyn Ottolini; she's really unique and unapologetic and unafraid. She's rad, I love her."
"Lainey Wilson is killing it, she's unique and again unapologetic."
"I've been super into Sabrina Carpenter. I love her record and her songwriting."
About Madeline Merlo
Madeline Merlo grew up in Maple Ridge, British Columbia. She grew up always knowing she wanted to be a singer. She signed to a record label at only 18, gained radio success, tour dates and awards, including the Canadian Country Music Association's Rising Star Award in 2015.
Madeline was featured on the second season of NBC's Songland where she won the first episode, seeing the eventual radio release of her first billboard number one single "Champagne Night" which was released by Lady A. Songland opened many doors for Madeline, including an opportunity with her brand new record label, BBR Music Group and her publishing deal with Sony Music Publishing.
RELATED: Listen to her talk about her time on Songland in our podcast …
Her first release with BBR was a 3-part EP which featured her highest radio charting single to date "Slide", along with TikTok viral song "Girl Where He Grew Up" along with "YOUNG-ish" and "I Need A Drink". In early 2023, she released her smash single "Same Car".
With no signs of slowing down, Madeline tied the knot with her new husband in April of this year, played her first CMA Fest in June, and is playing at a number of major festivals this summer.
Listen To Madeline Merlo's Music
Connect With Madeline Merlo On Social Media!
Instagram – @madelinemerlo
Twitter – @madelinemerlo
Facebook – Madeline Merlo
TikTok – @madelinemerlo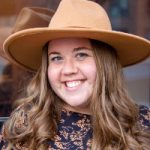 Country music lover with an unhealthy collection of concert t-shirts. Always looking for up and coming artists. Believer in music's ability to soothe the soul. Connect with me on Instagram and Twitter.