Julia Vos, emerging country singer-songwriter from Alberta, shares her latest single "Jude".
For the month of October, Julia is donating all funds from sales of "Jude" to Pregnancy Loss Support Canada.
Julia is also raising funds for Pregnancy Loss Support through a GoFundMe campaign called Letters To Jude.
Conveying Support And Raising Awareness Through "Jude"
To say "Jude" is a special song would be an understatement. "Jude" illustrates the emotional toll and grief that comes with losing a child.
Via Instagram, Julia says, "While this story is very close to my heart, it would not be mine to share without Jude, Kevin, or Dana. On a day of thanks, I thank them for letting me share their story."
And from Kevin and Dana, "If you've ever lost your child, this song will validate your grief and your heartbreak but also reaffirms how much they are a part of your lives now and always will be."
Shoutout to Julia for shedding light on an experience that so many can only empathize with.
"Jude" follows the release of Julia's cheeky summer single "You Can Find Me".
Demonstrating she can be both fun and sassy and also dial it back and convey beautiful stories through ballad shows Julia's ability to craft songs across the board.
Julia's goal is to enhance the lives of others, even if just for a few minutes through her songs.
Stream "Jude" By Julia Vos
More About Julia Vos
Julia Vos is a small-town girl raised in the heartland with a soul steeped in country music.
Julia's music is a reflection of her goal to connect with people through music and have a positive impact, driven by a passion to share raw and authentic personal stories that resonate deeply with her listeners.
Her journey started in the family band, where she sang country and bluegrass alongside her five siblings. Her debut single, "Whispers," was released in 2017. Julia has graced stages at the CCMA's, Boots and Hearts Music Festival, and The Calgary Stampede, sharing the limelight with some of Canada's top talent, like Gord Bamford, Paul Brandt, Tebey, and Dan Davidson.
RELATED: Julia Vos competed in the 2023 Boots & Hearts Emerging Artist Showcase …
Julia Joined Us On The Porch When We Were at Boots & Hearts This Past Year
With a growing social media following, Julia shares the ups and downs of her life, balancing hard work and numerous side hustles that have shaped her remarkable journey through her TikTok. Keep an eye out for her latest single, "Jude" available now, as Julia Vos continues to grow as an emerging Canadian artist.
Organizations Supporting Pregnancy and Infant Loss In Canada
Pregnancy Loss Support Canada
Baby's Breath Canada
The Parker Project AB
Sad Dads Club
Follow Julia Vos On Social Media
Instagram – @juliavos
TikTok – @juliavosmusic
Facebook – Julia Vos Music
YouTube – Julia Vos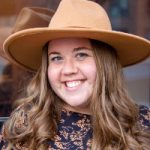 Country music lover with an unhealthy collection of concert t-shirts. Always looking for up and coming artists. Believer in music's ability to soothe the soul. Connect with me on Instagram and Twitter.