Nashville-based emerging country artist Jaclyn Kenyon recently released her new single "Heart Says No".
"Heart Says No" is the leading single from her upcoming project. With more singles to come in 2023, we should see an EP release from Kenyon by the end of next year.
I sat down with Jaclyn to learn more about her journey into the world of music, her career in songwriting, and what she's up to now.
Jaclyn's Journey Started Very Young
Jaclyn Kenyon grew up with music in her blood.
Her earliest memory is learning to play the piano and singing with her dad at just three years old. Her dad was a great source of inspiration and learning growing up, ultimately driving her passion into a career.
Performing and playing for crowds led her to Honey Jam, where Jaclyn not only showcased as the youngest contestant, but made it to the finals. Honey Jam helped launch the careers of Nelly Furtado and Jully Black.
This experience ignited an excitement in Jaclyn.
It helped her to realize she could make a career of doing what she loved. She began songwriting with Sony ATV, and performed at elementary schools on an anti-bullying campaign.
"They thought my family was writing my music because it was pretty mature for my age," says Jaclyn.
Jaclyn landed an artist development deal at the age of eighteen, when she relocated to Los Angeles to record her first album. The project didn't go as well as she had hoped. She says, "When I took these songs to California, my heart was in them." By the time she was deciding to move home, she felt the project no longer represented her.
After moving home, she reconnected with Mike Crompus, who she first met when she was participating in Honey Jam, and they began working together. Finally finding her space in country music, Crompus and Kenyon created her first country record.
"We created this really cool outside of the box country sound. It started going crazy. We released it during the pandemic, so I really don't think these songs got the life they deserved."
Boots And Hearts And Moving To Nashville
The pandemic found Jaclyn stuck at home, not creating and doing what she loved. She was in the Muskoka area and decided to apply for the Boots and Hearts Emerging Artist Showcase.
She didn't think she would even make the cut, but the day she got the email that she was accepted into the finals, she truly thought it was spam.
"I miss performing so much and the pandemic was really hard, as it was for a lot of artists."
The day she took the main stage at Boots and Hearts, she was more than ready.
"I was freaking out, it was such an exciting day. We played two songs that are actually coming out soon."
After Boots and Hearts, Jaclyn's heart (and her dad's work) took her to Nashville, where she's been for the last year.
New Music And Beyond
Jaclyn has been in Nashville creating music she loves and has plenty in the works for release. "Heart Says No" is the beginning of a new chapter of rock-infused country music that Jaclyn can't wait for the world to hear.
"I feel so connected to myself and my music. It's such a different thing."
We can't wait to hear more from Jaclyn Kenyon in the coming months
Stay Up To Date With Jaclyn Kenyon!
Instagram – @jaclynkenyonmusic
Facebook – Jaclyn Kenyon Music
Twitter – @jaclynkenyon
TikTok – @jaclynkenyonmusic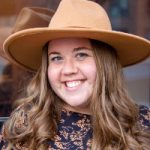 Country music lover with an unhealthy collection of concert t-shirts. Always looking for up and coming artists. Believer in music's ability to soothe the soul. Connect with me on Instagram and Twitter.