Winnipeg, Manitoba's Tyler Del Pino recently released his latest single "Slip Back In Time" to kick off his next album due out next year.
To introduce Tyler further to the Front Porch and Canadian country listeners, I interviewed him about his path to music, touring and more.
Introducing Tyler Del Pino
Introduce Front Porch listeners to you – tell us about yourself!
Tyler: My name is Tyler Del Pino, songwriter/producer hailing from Winnipeg MB.
I come from a background of non-musical parents, so I found music late. Growing up I played every sport available to me, hockey was my primary love before music.
My adolescent years weren't particularly enjoyable, I never had many friends and moved around a bit due to my Dad's job. Once I turned 15 I started to pick up the guitar and it completely changed my life.
I had started getting interested in pop-punk music and eventually that transitioned into the discovery of classic rock. I remember my mom had asked for The Beatles #1 record for Christmas one year. I wrote it off as "old people music" initially, but one morning she was playing it while the family did their morning chores and the song "We Can Work It Out" came on.
I remember pausing to listen to it and having to acknowledge how well written the song was. This was the beginning of my life long obsession with The Beatles. Through getting to know this band I quickly realized I didn't just want to play guitar, I wanted to be a songwriter.
Throughout my high school years I obsessed over the craft of songwriting learning from the greats like Simon & Garfunkel, Queen, Elton John, Joni Mitchell, Laura Nyro basically the best of the best.
I really wanted to be a part of a band and it wasn't long after I began writing songs that I formed my first band – Six Vinyl Penguins, there were 4 of us in the group but no one seemed to think the name was quite as funny as we thought it was haha.
That band was short-lived and soon after I began investing into recording gear and software. I remember thinking that I wrote too many songs for recording in studios to ever be affordable so I was determined to learn the craft so I could do it myself.
One project that really helped me hone these skills was a pop band I fronted called We Won The War. Again this project was short lived, but it was like going to school for production because I was learning how to push myself creatively.
After the collapse of project after project I remember having to face a hard truth…
If I ever wanted to maintain some sort of momentum with music I would need to go solo and begin releasing music under my own name. The volatile nature of band politics was holding me back from moving at the pace I wanted to move at. I needed to release some music and keep a project going.
In 2018 I recorded and released The Great Unknown EP, which was sort of the first real push I made trying to establish myself as a solo artist. The reception was overall quite positive and I was able to start playing some shows and gain some recognition on the local level.
My next album was recorded the following year and was set to release in 2020 with two big tours to promote it, but as soon as Covid hit, that dismantled my release plans. Once I realized the Covid stretch wouldn't be a quick one, I decided to release the first single "In The End" in November of 2020. The full In The End EP was released in March 2021. On this album I really wanted to connect with a great mixing engineer to take the sound of my production to the next level.
Luckily I was able to connect with Multi-Grammy Award winner F.Reid Shippen who was excited about the project. He mixed the whole album and it was the first time I ever thought I really had found my sound.
One piece of my background that I hadn't played with before was my skills on the Trumpet.
I went to university for Trumpet when I was 17 and studied in the classical stream. By my final year I was playing principal trumpet in the University Symphony Orchestra. When I was recording "In The End" I remember wanting some type of sound that was triumphant and that's when I thought to bust out the trumpet again and play it. After recording the Trumpet solo on "In The End" I felt this surge of excitement I hadn't felt in a while. I wondered what it'd be like if I started combining my classical trumpet skills with my singer/songwriter music. Slowly I started adding horn parts to every song I wrote, I didn't plan it that way, but I found that the music worked really well with this timbre and I was having so much fun doing it.
During Covid I had an opportunity to film some live showcase videos after the record had been released and I wanted to hire a band that embodied the big sound that "In The End" represented. I decided to try hiring a 3 piece horn section.
Because of my academic background I was able to write the charts for the musicians so they'd be able to play the songs how I envisioned them. The filming was an absolute blast and it was the first time in a long time I remembered seeing so many smiling faces in one room around my music. This sparked a desire to recreate that feeling every time I played a show and that's where I got the idea for my latest live project Tyler Del Pino & The Brasstronautz.
I was heading into the writing and recording of my 3rd release and I knew that I'd need to push the horn production on the album if I wanted to play in a band that justified the use of the name "Brasstronautz". This pushed me into new creative exploration where I was thinking of the horn parts during the writing process, rather than them being an afterthought like they'd been on "In The End". From this emerged my latest and most coveted album yet Out Of A Clear Blue Sky which is coming out in the new year 2024.
It's a record that I feel is finally an authentic representation of who I am and where I come from. I pushed myself to produce an album that didn't sound like anything else out there.
Truth be told I don't often feel like I fit in with the standard typecasting of "Country Music". I have always loved the organic sounds that Country music highlights, but I don't feel particularly drawn to lyrics centred around raising up solo cups, putting on blue jeans or how many trucks one could ride in.
I felt more connected to topics surrounding storytelling, social justice and whimsical metaphors. As a result I often get told industry doesn't know where to slot me. My sound is a mixture of Country, Americana, Folk, Pop and Rock. Artistically I feel more connected to Artists like Beck, Father John Misty, Gorillaz and The Beatles rather than Brett Kissel, Dean Brody or Blake Sheldon.
While I don't fit the mould of traditional Country branding I mostly try to stay connected to the love of playing live and connecting with people who enjoy the music I make. I think it'll be a slow climb for me, but I like the idea that when people discover what I'm doing that they get an experience they haven't had in Country music before and that excites me.
My philosophy is that life is about two things. Collecting experiences and connecting with people and creating music allows me to do both continuously.
FP: Tell us about the new single "Slip" Back In Time" which will be part of your 2024 album. Why was this the single you wanted to kick off the next chapter with?
T: This song pays homage to classic artists from the 60's, 70's and 80's. It's all centred around my own personal record collection which is a staple of our household.
While driving home one day I thought it'd be a really cool idea to build a song that referenced all my favourite records and from that "Slip Back In Time" was written. I wrote the song in a day and knew very quickly that it was an upbeat banger.
I've been sitting with it for a while and knew it was a bit poppier than I usually go, but I loved the song and always envisioned it being a summer release so when it came time to begin releasing this record I thought it might be a good kick off song right before my summer tour out west.
"Slip Back In Time" is the first taste of the big brass sound I've been experimenting with recently and I'm honestly just so happy to get it out there now.
FP: You're currently on tour promoting your new music. How's that going? What's your favourite part of touring? How has this helped you to get your music to new people?
T: Yes! I feel like touring is a healing process for me. It allows me to immerse myself in my artistry and play a lot of shows back to back. Grinding on the road can be exhausting because when you're at the emerging level you don't really know how large the audiences will be or how the venues will be all the time, but I look at it as training. It allows me to hone my ability to play live and connect which is important if I were ever lucky enough to operate at a higher level. It's a lot of driving, sleeping on floors, but I truly love travelling so it helps me scratch that itch too.
My favourite part of touring is finding the hidden gem, unexpected experiences, the ones that find you on the road. I often try to find really unique Airbnb's, unconventional venues and a general openness that aligns myself with unique experiences. You never know what you're going to encounter on the road, I thrive on the spontaneity and excitement it can bring.
FP: What are you most looking forward to through the rest of 2023?
T: I'm honestly looking forward to getting back into the studio and creating more songs the band can begin to add to their repertoire. The live band has been so much fun to play in this past year and I want to keep writing music so we can play together and get people partying! That's the most rewarding piece of it all.
Listen to Tyler Del Pino's Music
Follow Tyler Del Pino On Social Media
Instagram – @tylerdelpinomusic
Facebook – Tyler Del Pino Music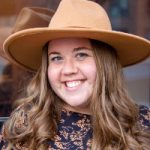 Country music lover with an unhealthy collection of concert t-shirts. Always looking for up and coming artists. Believer in music's ability to soothe the soul. Connect with me on Instagram and Twitter.